Time to Relax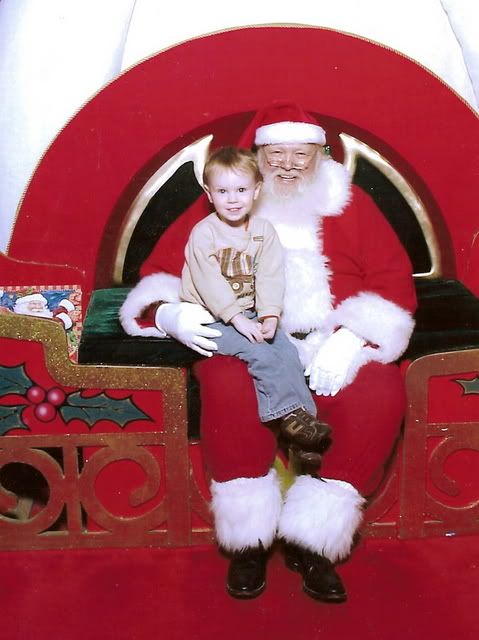 We have had a crazy couple of days, filled with errands and (somewhat) fake Christmas cheer. Wednesday we went to see Santa. Evan did great! The past 2 years he screamed and cried in terror (and yet we still got the pictures. We should be ashamed terrorizing our child that way.) I am not sure I would say he LIKED Santa, but he wasn't terrified of him either. As long as Santa didnt touch him, he was ok. There was once or twice when Santa was helping us try to get Evan to smile that I thought Evan was going to cry. He even remembered to ask Santa for his trains, tunnels and dinosaurs. (of course Santa didnt understand what he was saying, but it's ok, because mommy and daddy got it!)
Then we had to go to the Navy base to get some more of the stuff for dh's uniform. We ran all over the place for at least 2 hours. I think the uniform situation is taken care of for now though. We will see.
We came back to our town and went to get a Christmas tree. We found one pretty easily, and let Evan pick out a couple of ornaments for the tree. He picked a train and an airplane. Go figure. We managed to have the tree up and decorated by 8pm, so Evan could get to bed. I was exhausted, and I am pretty sure Evan was too.
Thursday we took Evan to get his portraits done. He didn't do as well this time as the times before because he kept trying to run away. We managed to get SOME good ones, but I was disappointed overall. I guess it saved me some money!!
Yesterday, I had the 3 hour GTT. I think it went ok, but I have no idea about the results. I am not sure I expect them to be good results at all. I won't find out for sure until my appointment on the 14th. At this point though, I am just glad the test is over with.
Dh works the rest of the weekend, and it's insanely cold outside, so Evan and I are going to hang out around the house and be as lazy as possible. I think we could both use it.